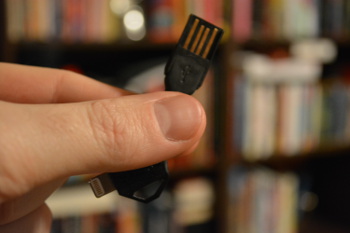 I don't normally do reviews of tech devices, but I was recently offered a review copy of Nomad's ChargeKey, and since it seemed like a neat little device, I decided to check it out.
ChargeKey is a portable lightning cable that fits on a keychain. It comes in both a lightning (iPhone) and micro-usb format (Android / Windows Phone). The idea behind it is to allow people to always have a cable to plug-in to a USB port if they need to charge or sync their phone. If you use a laptop or have a keyboard with a USB port this is really convenient. The cord is also flexible, so technically you could also plug it into the a USB slot on the back of a desktop tower too.
Priced at $29, it costs $10 more (or 53% more) than a normal lightning cable from Apple. This means you're basically paying $10 more for the added convenience of a short portable cable. That's a little high, but not too bad.
One thing I'm not completely certain on is its durability. Their marketing material mentions that its made with "high grade plastics from Bayer", but I wasn't able to find any information on if it was water proof (so I assume its not). I also wonder about the long term wear and tear the device can take, though for something this new its probably too early to tell. After 3 weeks I haven't encountered any problems though.
Other than that, there's honestly not a whole lot to say. It's a simple product that lives up to its expectations. If you think its something you'd like, I'd definitely recommend it.