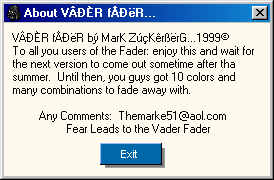 A year ago I wrote about Facebook founder Mark Zuckerberg's possible AOL hacker roots. A 1999 angelfire website appearing to be his was uncovered, and it contained two AOL progs by "Mark Zuckerberg" – the Vader Fader and the Zuck Fader. The evidence that the Facebook founder had created progs in his youth was pretty compelling, and now AOL's former CEO Steve Case has further verified this claim in his recent AMA (Ask Me Anything) by stating the following to someone who was apologying for their role in the AOL hacking scene:
Yikes! Well, I'm glad you got this off your chest! 🙂 The hacking of AOL was a real challenge for us. As AOL grew in prominence, it became a big target. Of course, some of the hackers have gone on to do more productive things. It sounds like that is the case with you, and it also was the case with Mark Zuckerberg! Went I first met him 6 or 7 years ago he said he learned how to program by hacking AIM! But, thankfully, rather than focusing on bring AOL down, he shifted to build Facebook up!
This probably means the Zuck had a collection of progs, knew about the various AOL *.bas files, and knew about AOL ASCII Art. That's kind of cool when you think about it. I imagine he's the most famous former AOL hacker.
Thanks to Kevin M. for alerting me to Steve Case's post.